February 27, 2023
Big Plastic is suing the Federal Government and halting progress on plastic pollution
Big Plastic is suing the Federal Government right now over its actions to reduce harmful, single-use plastic pollution.
Plastic pollution is considered the greatest threat to our oceans behind climate change. There is overwhelming evidence to support the harms that single-use plastic pollution poses to wildlife – often resulting in injury or even death. That is why in 2021, the Government of Canada took action against plastic pollution by listing plastics as Toxic under the Canadian Environmental Protection Act (CEPA) and implementing the single-use plastic ban. However, Big Plastic is threatening this with a lawsuit that could kill Canada's progress against plastic pollution.
Who is Big Plastic?
Big Plastic is a group of large, multi-national oil and gas companies that convert oil to plastic in order to produce items like single-use plastic bags, straws, overwrap, cups and sick-pack rings. Specifically, the Big Plastic players suing the federal government are Dow Chemical, Imperial Oil, NOVA Chemicals and the Responsible Plastic Use Coalition (ironic, we know), with support from The American Chemical Association and our own governments of Alberta and Saskatchewan.
At the receiving end of this lawsuit is the Government of Canada – more specifically, the Minister of Environment and Climate Change Canada and the Attorney General of Canada. But they're not alone. EcoJustice, on behalf of Oceana Canada, Environmental Defence and Animal Justice, are intervening in the court case to support the government's decision to list plastics under CEPA.
what is this court case about?
Back in 2018, the Federal Government announced that Canada was committed to banning single-use plastics to protect our oceans. In 2020, that plan started to take shape. It involved banning unnecessary single-use plastics that threaten wildlife, recovering plastics that end up in landfill and moving towards a circular economy.
In order to begin rolling out regulations like the single-use plastic ban, the government turned to CEPA. This piece of legislation gives the government the power to regulate toxic substances that pose a risk to the well-being of species and the environment. Familiar toxic substances regulated under CEPA include DDT, asbestos, mercury and plastic microbeads. In 2021, after completing a Science Assessment that demonstrated the threat plastics posed to the environment, the government listed plastics as "toxic" under CEPA, allowing them to be regulated.
Following this listing, the Federal Government went forward with the single-use plastic ban – which came into force at the end of 2022 – and is currently in development of several other regulations to fight plastic pollution.
What is at risk if Big Plastic wins?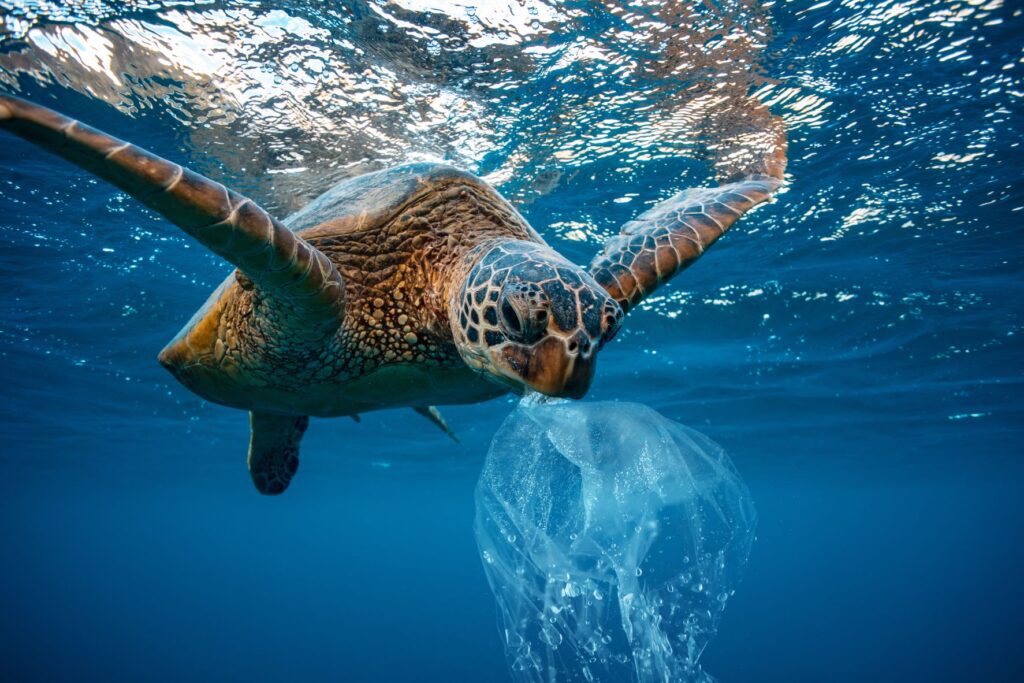 Essentially, the toxic listing and regulations on plastic production cut into the profits of Big Plastic. They want the listing removed and, if they succeed, it would destroy the legal foundation needed to fight plastic pollution in Canada.
The oceans are already flooded with plastic waste. Over half of all sea turtles have ingested plastics and it is estimated that by 2050, 99 per cent of seabirds will have too. Plastics have been found in the deepest parts of the ocean, floating in ocean gyres around the world and even in sea ice in the Arctic. Devastatingly, microplastics have also been found in human blood, lung tissue and even traveling through placentas to unborn babies.
A lot is riding on this court case. March 7th, 2023 marks the start of the trial and Canadians deserve to know what is happening. When it comes to plastics, this case will define how and if Canada can continue to fight the plastic crisis.
Now is not the time to fight progress tackling plastic pollution. Now is the time to stop it at the source and provide real solutions; solutions like banning single-use plastics. And in order for more solutions like this to come forward, we need to uphold the listing of plastics as "toxic" under CEPA.