Anthony Merante
Plastics Campaigner
Oceana Staff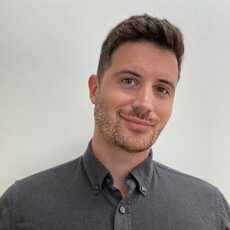 Anthony (he/him) has been working on protecting aquatic ecosystems for nearly 15 years with focuses on government and community collaboration for large-scale impact.
In his past roles, he has focused on restoring the health of the Great Lakes from urban pollution like road salt and plastics, but he has also led projects in Québec, Austria, Taiwan, and Hong Kong. Moving through the academic, non-for-profit, and private sectors, Anthony has refined his goals to mix conservation and sustainability. Striving for real change in policy and practice to see pollution out of our environment and our wildlife thriving once again is the guiding principle to his work. Canada has made great commitments to seeing our single-use plastics reduced and out of our oceans and waterways; as a Plastic Campaigner with Oceana, Anthony will work to see those commitments made good. In his spare time, Anthony can be found walking his dog along the lakeshore or portaging through Ontario's north.
Anthony holds a master's degree in Biology from l'Université du Québec à Montréal, a bachelor's degree in Marine and Freshwater Biology from the University of Guelph, and a certificate in French from the University of Toronto.