July 15, 2016
Want to Keep Eating Wild Fish? Then We Need to Save Our Falling Fish Stocks, Says New FAO Report
The United Nations Food and Agriculture Organization (FAO) released a new report that highlights how important fisheries are and how critical it is that we better manage this important resource. Here are some of the report's key findings.
We eat lots of fish
Global consumption of fish increased from 9.9 kg per year in the 1960s to 19.7 kg in 2013. Preliminary estimates for 2014 and 2015 point to further growth beyond 20 kg. This growth in fish consumption has enhanced people's diets, providing diverse and nutritious food. Fish provided 3.1 billion people with almost 20 per cent of their average per capita intake of animal protein. By eating fish, many people are able to consume a high quality protein that contains essential amino acids and fats as well as vitamins and minerals. Canada's eating habits differ from this global trend. Despite the fact that Canada has access to delicious seafood options, we are actually eating less fish per capita.
But we are losing our wild fish
The face of the fishing industry has changed. What was once based on wild-caught species is now increasingly dependent on farmed fish. We hit a tipping point in 2014; for the first time, aquaculture provided more fish for human consumption than wild-caught fish. Aquaculture provided only seven per cent of fish for human consumption in 1974. By 2004, this share increased to 39 per cent. While aquaculture production increases, the amount of healthy fish stocks continues to decline. In 1974, 90 per cent of the world's fish stocks were within biologically sustainable levels, and as of 2013, only 68.6 per cent were fished at sustainable levels. This means that in 1974 we had an A grading (90 per cent) for how sustainable our global fisheries were, but by 2013, we dropped to a C grade (68.6 per cent) – and still declining. We can't afford to let this depletion continue.
FAO's report paints a critical picture of the true state of our oceans and fisheries – information that requires us to act. There are serious environmental consequences to our increasing dependence on aquaculture to provide us with food. Some forms of aquaculture production (especially salmon and tropical shrimp) can cause high levels of pollution, are energy-intensive and can lead to outbreaks of disease, all of which can hurt wild fish populations and local ecosystems.
There are sustainable aquaculture operations with low environmental impacts, such as oyster and mussel farming. As our global population grows, we will need to further invest in such examples of environmentally responsible solutions. More importantly, our wild fish populations can and should be recovered, which will create more sustainable food choices and support the health of our planet. Oceana is working around the world, including in Canada, to support science- and ecosystem-based fisheries management to help recover fish stocks and ensure a sustainable source of protein for our growing planet
Canada's marine future depends on you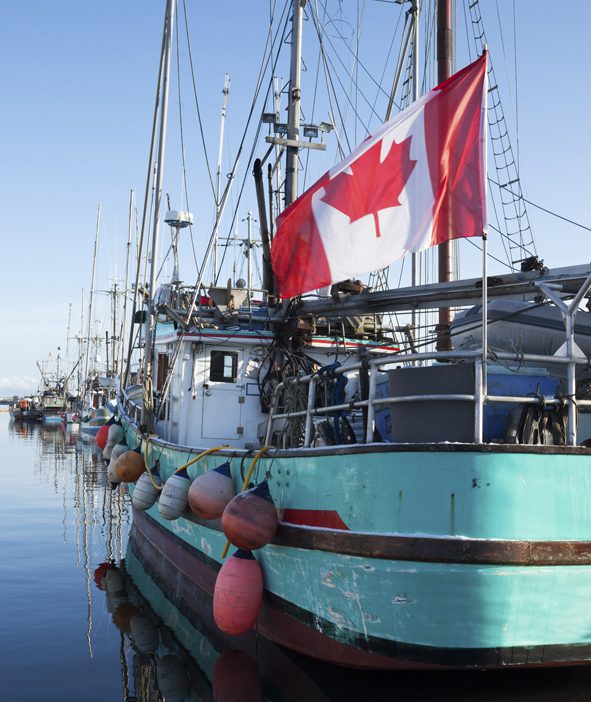 The report notes that Canada is one of the world's top fish producing countries and, as such, has a role to play in managing this resource and helping to feed growing populations. Canada is currently ranked 21st in marine fish production and is the 10th largest exporter of fish and fishery products. The report notes that Canada's position as a major fishing nation is at risk, as we are not managing this resource sustainably. In fact, Canada's fish production is down almost 14 per cent over the last decade and it is likely to continue to drop further by 2025. Not only are Canada's fish populations declining, but there is also a lack of transparency in fisheries management, which keeps the public from knowing the true health of Canada's fisheries. According to a new report by Oceana Canada, 45 per cent of our fish stocks cannot be assessed do to a lack of data. Canada's fisheries are important for our economy, coastal communities and culture. It's time to invest in their recovery.