March 10, 2021
Plastic kills wildlife and degrades ecosystems. Canada must declare plastic Toxic with a capital 'T'
In October of last year, the federal government announced that Canada will ban six single-use plastic items (checkout bags, straws, stir sticks, cutlery, six-pack rings and some plastic takeout containers) by the end of 2021. But the ban – even though it is narrowly scoped to six of the most obvious contributors to plastic pollution – is under threat of not passing.
Call on the government to fulfill their commitment and end the plastic crisis >>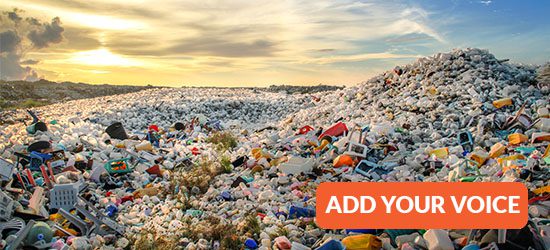 Here's where things get a little tricky, with a capital 'T.' The federal government has proposed to use the Canadian Environmental Protection Act (CEPA) to ban harmful single-use plastics – the same law it used to ban plastic microbeads in 2017. But the first step to regulating a substance using CEPA is adding it to the Act's "List of Toxic Substances." Plastics aren't currently on the List of Toxic Substances and the chemical industry has been fighting tooth and nail to keep it that way.
The truth is, getting plastics listed as CEPA-Toxic shouldn't be contentious. A substance can be added to the List if it is in the environment in a quantity that has immediate or long-term harmful effects on the environment. And plastic pollution is already wreaking havoc on our environment.
According to the United Nations, "plastic pollution is the second most ominous threat to the global environment, after climate change." Everywhere scientists look, they find plastic – in the deepest ocean trenches, on the highest mountain tops, in the middle of our oceans and in remote Antarctic ice. Plastic pollution degrades ecosystems, kills wildlife and threatens our life-sustaining oceans.
The Canadian government's own science assessment on plastic pollution determined that plastics – especially packaging and single-use plastics – cause considerable harm to the environment and the creatures that depend on it. Plastic is not harmless – it deserves to be listed as Toxic with a capital 'T.'
So, what's the hold up?
Perhaps it is no surprise that the chemical industry has been lobbying to block federal regulations targeting plastic. In May of last year, the president of the Chemistry Industry Association of Canada (CIAC) urged the government not to regulate plastics under CEPA. And in response to the proposed ban, CIAC launched a website promoting false solutions to the crisis – like burning plastic waste.
The chemical industry claims that adding plastics to the List of Toxic Substances will be bad for business and discourage international investments in Canada's petrochemical sector. But is that really such a bad thing? We need to manufacture and use less plastic, especially unnecessary single-use plastics and packaging if we are ever going to end the plastic pollution crisis. Plus, there are untapped economic opportunities in reuse, repair, refurbishment and recycling.
Right now, we need bold leadership from our elected officials. The Minister of Environment and Climate Change, Jonathan Wilkinson, has the power to add harmful plastics to CEPA's List of Toxic Substances today. There's no time to waste. Every day without action means another 7,700 tonnes of plastic waste destined for our landfills and environment.
But it isn't all bad news. This delay in listing plastic as Toxic gives us more time to push the federal government to expand the proposed ban list to include more harmful single-use plastics. Canada needs to ban more than just six items if we want to address the plastic pollution crisis. Even Environment Minister Wilkinson has stated that proposed ban only represents "a fraction… of one per cent" of the plastic products we use.
If you agree that Canada needs to ban more than just six plastic items, send a letter to Minister Wilkinson and Prime Minister Trudeau telling them that you support bold federal action to #EndthePlasticDisaster.