July 15, 2020
Oceana in Canada, the U.S. and UK calls on Amazon to follow their customers' lead and offer plastic-free packaging choices at checkout
*** Local Caption *** Plastic bottle and bags in the beach at sunset. Andalucia Harbour Tour. Port of Adra, Almería. September 2019. Botella y bolsas de plástico en la playa a la puesta de sol. Tour por los puertos de Andalucía. Puerto de Adra, Almería. Septiembre 2019.
Jeff Bezos credits Amazon's global success to an 'obsessive' focus on its customers and putting their needs first. According to a recent Oceana-commissioned survey, Amazon's customers – which includes 78 per cent of Canadians – want the online retail giant to do the right thing and offer plastic-free packaging options at checkout.
Like me, you might be feeling guilty about all the plastic packaging that comes with online shopping, which many of us are doing more of now during the COVID-19 pandemic. Survey after survey shows Canadians care about our natural environment and want to end the plastic disaster – and Amazon has the opportunity to make a real difference for its customers and for our oceans.
Polling results show that in Canada, 79 per cent of all Amazon customers and 81 per cent of Amazon Prime members either strongly or somewhat agree with the statement, "I would use a plastic-free choice/alternative packaging if offered."
In Canada alone, 47 per cent of the plastic waste generated comes from plastic packaging and single-use plastics – more than any other category of plastic waste. If we cut packaging waste off at the source, we can effect real change and help end the plastic disaster.
With Amazon set to announce soaring online sales in its quarterly earnings this month, these survey results are a clear reminder that online retailers have an increased responsibility to offer sustainable packaging options, especially given the boom in online shopping brought on by COVID-19 – and the growing global plastic pollution crisis. Plastic is now everywhere and in everything. It is the deepest parts of the ocean, in every fish tested in the Great Lakes, and in the air we breathe. Jeff Bezos can show customers that he, and Amazon, cares about them, and the planet.
In 2019, according to news accounts, Amazon shipped approximately seven billion packages worldwide, equivalent to nearly one package for every person living on earth. These packages are often packaged with plastic, which can end up in the oceans and devastate marine life. The company has just announced a $2 billion USD "climate pledge fund" toward reaching its commitment to be net-zero carbon in its operations by 2040. Now, customers want to see action starting with sustainable packaging.
In addition to this new polling data, a petition urging Amazon to provide plastic-free options, started by Oceana supporter Nicole Delma already has half a million signatures.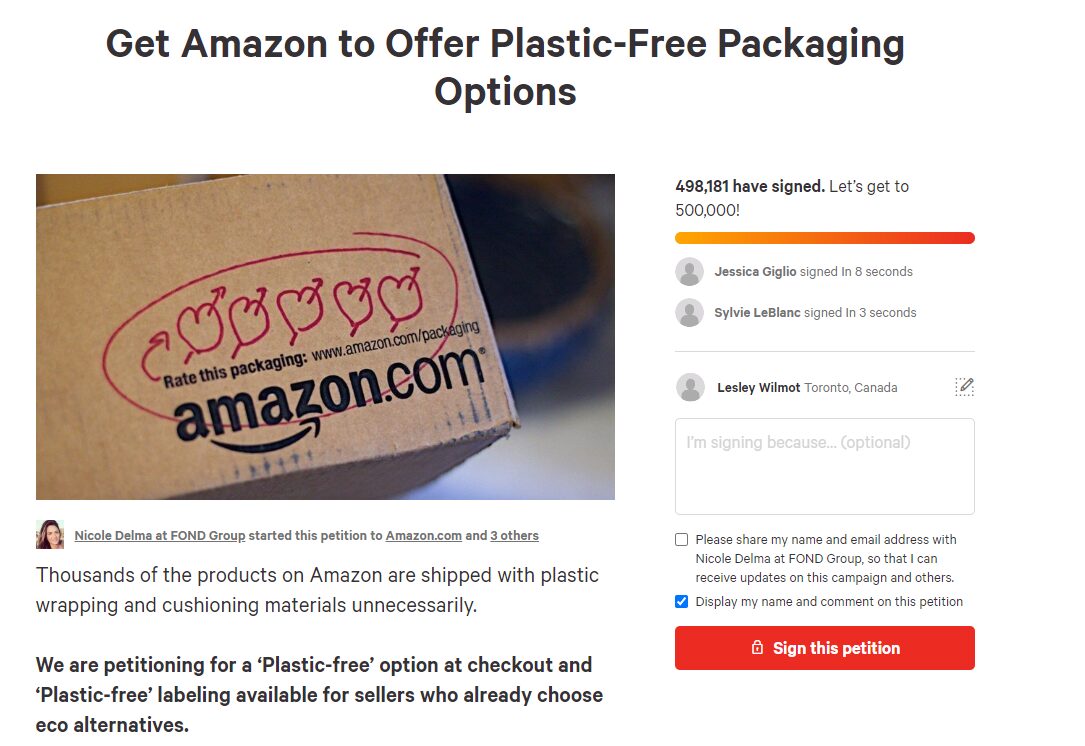 We know Amazon can do the right thing. In fact, its packaging and materials labs have already created lightweight plastic-free packaging, including a new mailer that the company reports has been used 100 million times. Amazon is known for its innovation in logistics and delivery technology and has made commitments to protect the environment, including the pledge to be zero carbon by 2040. Further, Amazon recently announced it eliminated non-recyclable plastic in packaging across its fulfilment centres in India.
Still, Amazon has made no public commitment to reducing its use of plastic packaging. And that is why Oceana has launched this campaign in Canada, the U.S and the UK to ask Amazon to provide plastic-free options for its customers.
Amazon is one of the world's most innovative companies. It will soon start using drones to deliver items to our houses and is led by a CEO who is planning humanity's expansion into space. Surely, Amazon can find a way to offer its customers plastic-free packaging choices.