The Northeast Pacific Seamounts Expedition
The ocean is as beautiful as it is vast. Its expansiveness adds to the awe and wonder the ocean inspires, but it also makes conducting the research needed to manage and protect it challenging. Modern tools are helping address this, giving us the opportunity to explore new spaces and monitor distant waters from our computer screens. This is particularly important for an incredible underwater chain of mountains Oceana Canada visited in 2018 off the coast of British Columbia, the Northeast Pacific Seamounts.
Seamounts
The Northeast Pacific Seamounts are a chain of underwater mountains and hydrothermal vents along the deep, offshore waters of British Columbia. They are home to an abundance of life including corals, sponges, octopuses and rockfish.
Fisheries and Oceans Canada, in consultation with conservation experts, local communities, industry representatives and Indigenous rights-holders, have been working to protect this area. It is currently an Area of Interest (AOI), which offers interim protection. Oceana Canada and many other groups have been advocating for it to be permanently protected as a Marine Protect Area (MPA). Once protected, it is expected that Indigenous Peoples of the region – the Council of the Haida Nation, the Nuu-chah-nulth Tribal Council, the Pacheedaht and Quatsino First Nations will play a significant role in the future management of the MPA.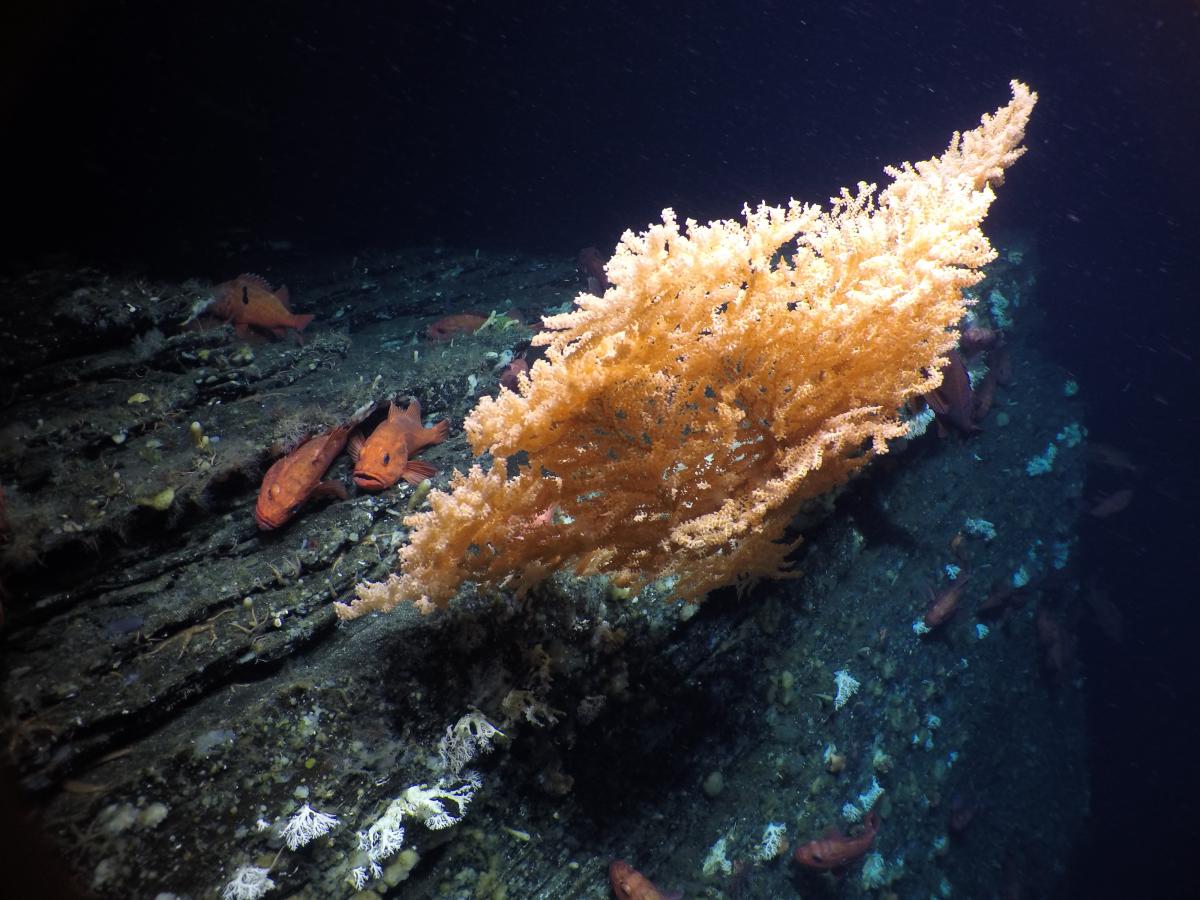 This area needs permanent protection because not only is the ecosystem incredibly important it is also located in busy waters with activities that could pose a threat if regulations are not put in place and enforced. There is traffic of all kinds, including cargo and tanker ships, as well as fishing vessels. How do we know this? Enter the technology that allows us to monitor the oceans from afar, Global Fishing Watch.
Monitoring Seamounts
Global Fishing Watch is a publicly available tool meant to increase transparency of human activity on the ocean. It provides near-real-time tracking of commercial vessels to support science and monitoring. And now its powers are being deployed to learn more about vessel activity and to help protect the ocean around the world.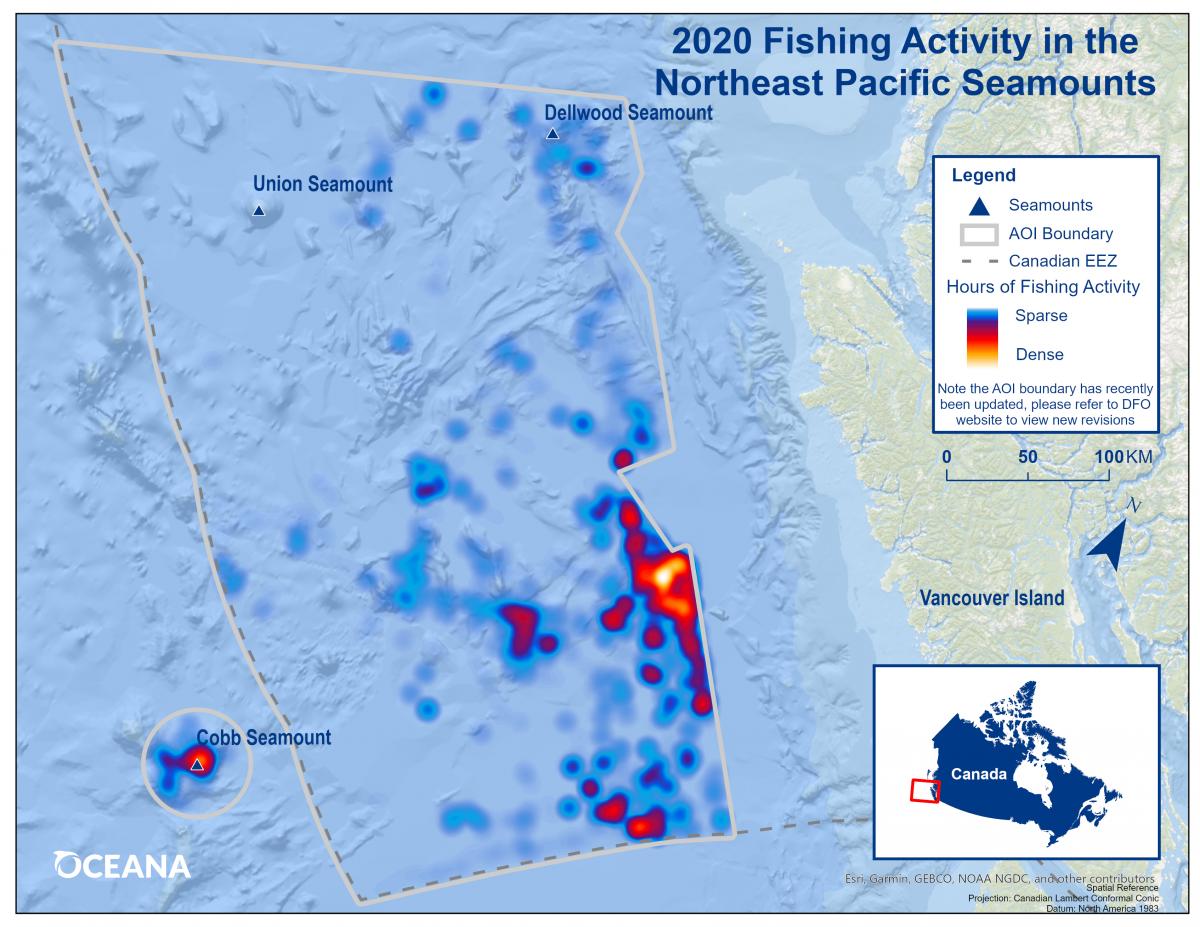 In this heatmap of fishing in 2020, we can see the intensity of activity in the AOI. This Global Fishing Watch data can also zero in on specific vessel tracks, as we did in the map below highlighting two different seamounts, Dellwood (in the AOI) and Cobb (in international waters).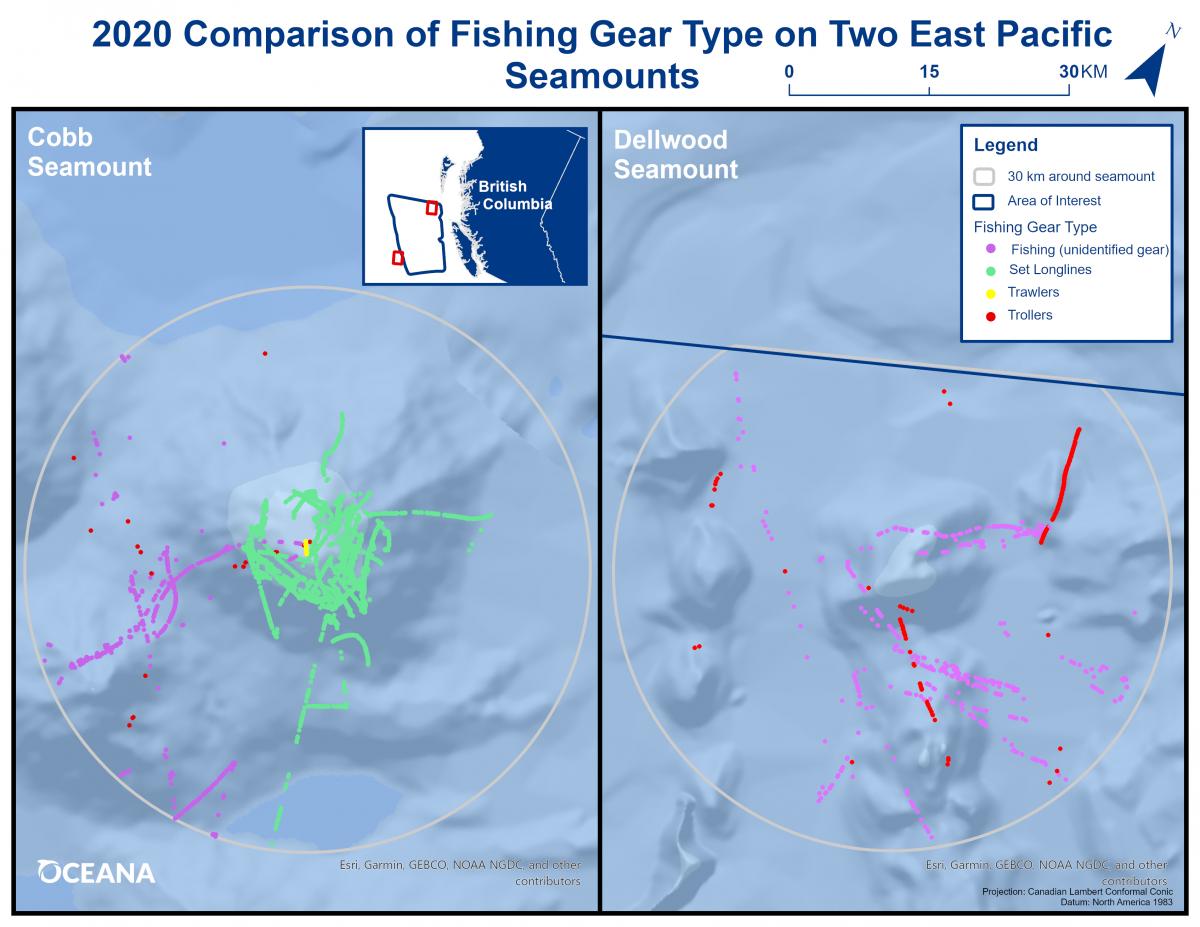 All the observed fishing activity in these seamounts was at the surface or in the water column, well above the vulnerable corals and sponges – at least in Canada's AOI. Outside Canada's border, in international waters on the Cobb seamount, there was also bottom-trawling activity.
Research studies have documented that without the kind of protections we are putting in place in Canada many seamounts, like Cobb, have had their centuries-old coral and sponge habitats decimated by destructive fishing practices like bottom-trawling. In the future, Global Fishing Watch could be employed to monitor the effectiveness of regulations designed to protect the Northeast Pacific Seamounts.
Marine protection decreases the number of activities that could potentially threaten an area. Please join us in calling for permanent protection for Canada's underwater mountains and finally turn the Northeast Pacific Seamounts into an MPA.
You can help the seamounts! Show your support for creating a Marine Protected Area by adding your name to this petition and joining thousands of people across Canada who are already helping to save these underwater mountains.