Oceana Canada's Science Symposium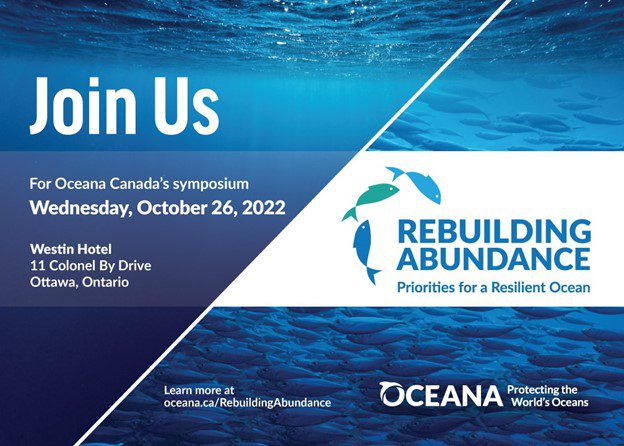 AN ABUNDANT OCEAN IS POSSIBLE. REBUILDING FISH POPULATIONS CAN BE OUR LEGACY. 
Healthy fish populations are critical to healthy ecosystems. They feed communities, support economies and are essential to our survival. On October 26, 2022, Oceana Canada is hosting a symposium, Rebuilding Abundance: Priorities for a Resilient Ocean. The symposium will feature conversations with world leading oceans and fishery experts, Indigenous and fishing industry leaders, policy-makers and journalists from across Canada.
AGENDA
8:30 a.m. Welcome
• Opening remarks: Josh Laughren, Oceana Canada
• First Nations Elder welcome and prayer
• Keynote: Dr. Albert Marshall, LLD, Elder, Moose Clan of the Mi'kmaw Nation
• Keynote: Sam Waterston, Oceana board chair and award-winning actor
10:15 a.m. Break
10:30 a.m. Session 1: An Abundant Ocean is Possible: What is the potential for rebuilding abundance in Canada's oceans in the next decade?
• Introduction: Dr. Robert Rangeley
• Keynote: Dr. Daniel Pauly
• Panel speakers: Dr. Julia Baum, Dr. William Cheung and Dr. Boris Worm
• Q&A: Your opportunity to engage
• Journalist moderator: Paul Withers
12:00 p.m. Lunch provided
1:00 p.m. Session 2: An Abundant Ocean is our Legacy: What are the growth opportunities for food security, income and livelihoods in coastal communities?
• Keynote: Dr. Rashid Sumaila
• Panel speakers: Ken Paul, Jim McIsaac and Sonia Strobel
• Q&A: Your opportunity to engage
• Journalist moderator: Ainslie Cruickshank
2:30 p.m. Break
3:00 p.m. Session 3: An Abundant Ocean is our Legacy: What are the growth opportunities for food security, income and livelihoods in coastal communities?
• Keynote: Dr. Andrea Reid
• Panel speakers: Dr. Barbara Neis, Carey Bonnell and Keith Sullivan
• Q&A: Your opportunity to engage
• Journalist moderator: Jenn Thornhill Verma
4:30 p.m. Break
4:45 p.m. Session 4: Priorities for Rebuilding Ocean Abundance 
• The Honourable Joyce Murray, Minister of Fisheries and Oceans
• "What we heard today" Josh Laughren, Oceana Canada's Executive Director
• "Rebuilding Ocean Abundance in a Changing Environment" Dr. Niall O'Dea, Fisheries and Oceans Canada (DFO)
• Q&A wrap-up moderated by Josh Laughren
5:45 p.m. Evening reception
SPEAKERS
NEW
• Dr. Albert Marshall, LLD, Elder, Moose Clan of the Mi'kmaw Nation
• Dr. Niall O'Dea, Senior Assistant Deputy Minister, Fisheries and Oceans Canada (DFO)
• Ainslie Cruickshank, The Narwhal
• Paul Withers, The CBC
• Keynote: Sam Waterston, actor, producer, director and chair of Oceana's board of directors
• Dr. Julia Baum, University of Victoria
• Carey Bonnell, Fisheries Council of Canada and Ocean Choice International
• Dr. William Cheung, University of British Columbia
• Jim McIsaac, Canadian Independent Fish Harvesters Federation •  Josh Laughren, Oceana Canada
• Dr. Barbara Neis, Memorial University
• Ken Paul, Wolastoqey Nation
• Dr. Daniel Pauly, University of British Columbia
• Dr. Robert Rangeley, Oceana Canada
• Dr. Andrea Reid, University of British Columbia
• Sonia Strobel, Skipper Otto
• Keith Sullivan, Fish, Food and Allied Workers (FFAW)
• Dr. Rashid Sumaila, University of British Columbia
• Jenn Thornhill Verma, writer and freelance journalist
• Dr. Boris Worm, Dalhousie University
Additional speakers to be confirmed