Tammy Thorne
Communications Manager
Oceana Staff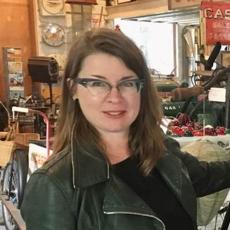 Tammy grew up in the Kawarthas and has devoted her career to helping amplify environmental and social justice issues such as women's equality and poverty.
In her life beyond work, Tammy loves to ride her bike and spend as much time in nature as possible – whether it is canoeing on the Otonabee River or riding the Martin Goodman Trail along Lake Ontario. Travelling to Scotland and Newfoundland recently, Tammy saw first-hand just how important the ocean is to communities around the world – and she is incredibly pleased to join the Oceana Canada team.
Tammy has more than 10 years' experience leading and executing communications campaigns that have shaped policy, raised funds and advanced social issues, working for organizations such as WWF-Canada, The Government of Canada (Minister for Women and Gender Equality), St. Joseph Media, Sunnybrook Health Sciences, and the University of Toronto. She is also the proud founding editor of Toronto's first cycling advocacy magazine, dandyhorse.
Tammy has worked with great teams to engage and activate people for positive change, and she is excited to now be able to take her passion for media relations and protecting the environment to help save the oceans and feed the world.