Sarah Cameron
Communications and Digital Marketing Manager
Oceana Staff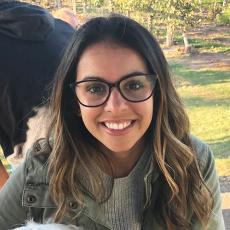 Growing up in a small cottage in the Kawarthas, Sarah has always had an affinity to water. After a school biology trip to Hawaii and an experience with manta rays, followed by a marine conservation trip to Cambodia and a PADI certification, Sarah was forever hooked on the sea.
She attended Queen's University for her Bachelor's degree in Environmental Science and Biology which was followed by a post-graduate certificate in Project Management. Her career began in Education and Conservation at Ripley's Aquarium of Canada where she quickly channeled her interests to digital platforms in Marketing and Communications, sharing her passion for conserving the world's oceans from the heart of downtown Toronto. She is beyond thrilled to continue her career with Oceana and can't wait to sea where this opportunity will take her.
Outside of the office, Sarah can be found travelling the world, reading a good book or hanging out with her dog.