Devan Archibald
Fisheries Scientist
Oceana Staff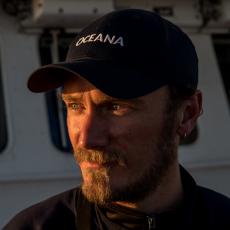 Devan grew up in rural Nova Scotia, a place never too far from the shore. However, he spent most of his time inland, working on his parent's Christmas tree farm and exploring the surrounding forests, lakes and rivers.
Being surrounded by wildlife led Devan to pursue a career as a biologist and research assistant. He has experience working in a variety of ecosystems across the continent, lending a hand to research, conservation and monitoring projects with focal species ranging from owls, to squirrels, to sea birds.
Devan received a BSc from the University of Guelph and an MSc from McGill University. After travelling and working abroad for nearly a decade, Devan was excited to bring his skills and expertise back home to Nova Scotia. He worked for four years as the turtle technician for the Canadian Sea Turtle Network, helping to conserve sea turtles in Canadian waters. Through spending time with their commercial fisher partners on the water, Devan was able to re-connect with the sea and foster a greater love for the oceans and coastal communities. Devan is thrilled to join the Oceana Canada team to help restore our oceans.
Devan lives minutes from the banks of the Minas Basin, home of the world's highest recorded tides.