Ashley Wallis
Plastics Campaigner
Oceana Staff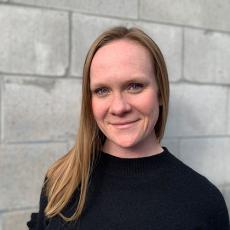 Having spent nearly 10 years working for environmental non-profits, Ashley (she/her) has designed and led citizen science programs, advocated for the protection and restoration of the Great Lakes and most recently campaigned to end plastic pollution.
During her years working in fresh water advocacy, Ashley recognized the increasingly urgent need to address the plastic pollution crisis. As a former Great Lakes surfer, she would often lament the plastic trash she had to share the surf with. Inspired by what engaged individuals can accomplish together and the power of environmental advocacy, Ashley is working to build a future without plastic pollution. In her spare time, she enjoys spending time with her family exploring Toronto's ravines and parks, baking bread and taking her energetic dog – Penny – for runs around the neighbourhood.
Ashley holds a master's degree in Environment and Sustainability, a bachelor's degree in Biology and a certificate in writing, all from Western University in London, Ontario.